AriaMisto Schiuma
TK-1100-SL/silver
10,800円
(tax not included)
▼ Can be purchased here ▼
AriaMisto Schiuma
TK-1100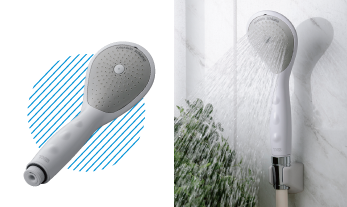 8,800円
(tax not included)
▼ Can be purchased here ▼
The high quality water saving features of the Ariamisto are incorporated into a shower head that fits perfectly into a women's hand. Air bubbles mixed into the water increase water volume. Compared to a standard shower head using the same volume of water, the Ariamisto has a higher washing performance. Based on research on the traditional Ariamisto, improvements have been made such as the showering area being made wider giving a more gentle water feeling on your skin.
AriaMisto Risaia
TK-1150-SL/silver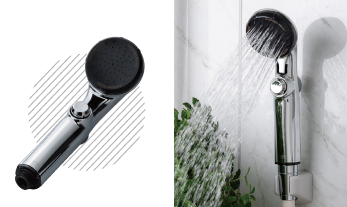 16,000円
(tax not included)
▼ Can be purchased here ▼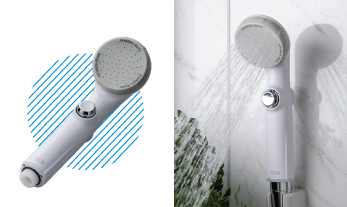 14,000円
(tax not included)
▼ Can be purchased here ▼
A one touch water stopper has been added to the mix jet water shower Ariamisto Risaia. Development of new technology enables integration of the shower head housing. The lighter weight reduces risk of damage when dropped. The elimination of any seams enhances the beauty and makes maintenance easier. A sliver shower head has been added to the lineup in response to enquiries from Spa facilities. Tanaka Metal Factory prides itself on being able to respond to the needs of our customers,

6,648円
(tax not included)
▼ Can be purchased here ▼
Ariamisto is a patented mix jet method shower head (Patent No. 3747323). Mixing air into the water increases the volume while reducing the amount of water used by up to 50%. It is highly recommended for Spas and public baths.

Production by Order
This is an adapter that you can connect to your favorite shower head to gain up to 50% water saving. It utilizes our original mix jet method maintaining water pressure while saving water. The water pressure will of course vary between areas. The water flow can be adjusted to suit your needs.
※This item is manufactured for specific orders only and is not available for general sales. Please contact us for further details.