President Tanaka's Desire to Create
We need to be a manufacturer that can sell rather than just manufacture.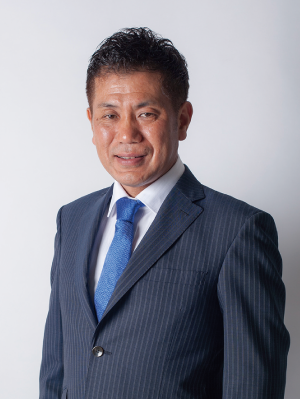 Tanaka Metal factory began with a single lathe. We have evolved from craftsmen's skills using general purpose lathes, through cam style automatic lathes into the current CNC lathes. Our variety of products that we can produce has also changed.
Our first goal at Tanaka Metal Factory now is innovation.
To become a manufacturing group that produces superior products in response to the needs of our customers.
Our second goal is development capability.
To become a manufacturing group that never gives up trying to create products for the benefit of the human race, for the happiness of the human race.
Our third goal is sales.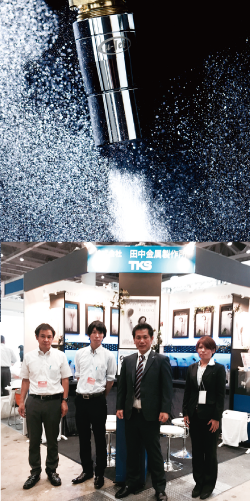 To become a manufacturer that can analyze how products are sold and create a saleable location. Just manufacturing products isn't enough
We conduct demonstration sales of the products that we have made. During these demonstration sales times we are able to see the happiness and joy that our products bring to the customers. This gives us more motivation to continue to create products for the good of the human race
Innovation and Development
This is not only important for Tanaka Metal Factory but also for all small to medium sized businesses. The more desire a company has to make better products the better the company will become. When staff members of each department are working hard in order to cultivate innovation and development, the company should grow. Tanaka Metal Factory feels that it is this kind of evolving medium sized business.
Representative Director Kazuhiro Tanaka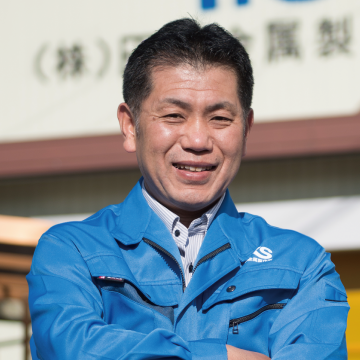 Kazuhiro Tanaka
He was born in 1968. He worked 5 years in a local processing company. He took over the family business as a craftsman of brass parts. Developed and commercialized the "Ariamisto" water saving shower head. Persevering through various difficulties, he is a positive tenacious leader.
Tanaka Metal Factory Correlation Chart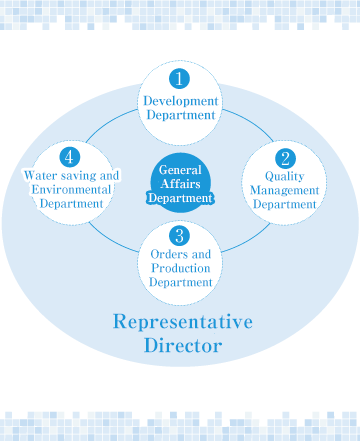 ❶ Development Department
From the development of our own products to OEM. On the base of the micro bubble technology, we conduct joint research with universities. We transform the needs of the customers to form.
❷ Quality Management Department
We deliver peace of mind and confidence for the customers. We ensure quality of the products and quality of the work environment.
❸ Orders and Production Department
The manufacturing department has been our core since our beginning. Producing, processing and assembling our original products or subcontracting from other companies.
❹Water saving and Environmental Department
Originally producing water saving products, this department is now responsible for micro nano- bubble shower head sales. Together with sales, we create sales platforms for our products. This includes sales planning and demonstrations at the sales points where we can directly hear the customer's voice.
Lecture Details
Lecture Images
Lecture in Hawaii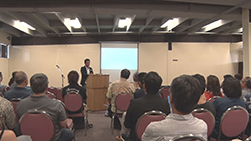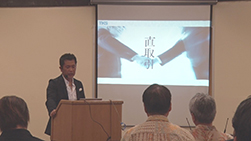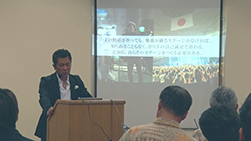 Lecture in Hachinohe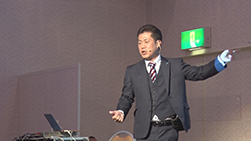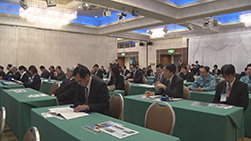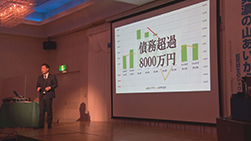 Lecture Content
¥80 million debts. Problems of bankrupt suppliers and product recall from customers.
In spite of reduced product distribution and the resignation of our product development manager, the company on the brink of bankruptcy staged a remarkable V-shaped recovery being brought back to life by the shower head.
It is sent from the mountains of Mino to the world. I will tell the real story from those depths to present times.
Previous Lecture History
Presentation of Management Experience Presidents Regular Meeting Kumamoto Seiwa Juku
Date; August 2nd 2015
Hotel Nikko Kumamoto (Kumamoto)
Sanpachi Innovation Fair 2015
Date: December 2nd 2015
Hachinohe Plaza Hotel (Aomori)
Seiwa Juku Hawaii Voluntary Meeting
Date: June 28th 2016
Ward Warehouse (Hawaii)